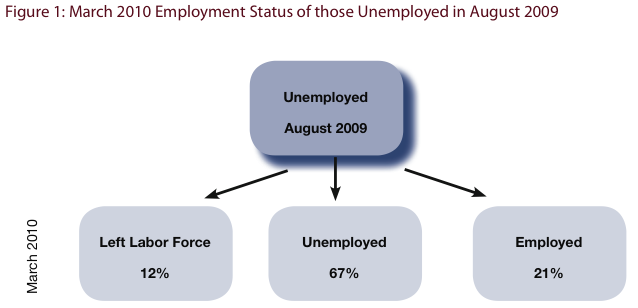 I understand the need to make money, but how can we have political leaders betting against the market during an economic crisis. In October 2008, Sen. Isakson shorted the market by investing more than $30,000 in ProShares UltraShort 7-10 Year Treasury and UltraShort 20+ Year Treasury. And he's not the only one who's doing it. a Wall Street Journal analysis of congressional disclosures shows that many more Congress members engaged in this sort of behavior.
Can you say, "Conflict of interest!"
I can, and I just did.
Now let's focus on the jobs situation. The long-term unemployment situation is this country has not improved. At least not by much. Last August, Rutgers University researchers asked a thousand unemployed people about their unemployment status. Since then, about 80% of them have failed to find jobs. And out of the small percentage of people who managed to find a job, only 13 percent found full-time jobs. 61% of the job finders are stuck in crappy jobs.
So has the employment picture changed in your neck of the woods?